The "B" Litter Kids
Can. BIS Ch. Rokeena Swagman (Aust. Imp) x Ch. Timberlane Going in Style JH
September 21, 2002
The B Litter
Ch. Moonsetter Boomerang Sirius JH
Minneapolis, Minnesota
Boomer was co-owned with Bruce & Mary Keiser
Boomer in the ring
Boomer
Ch. Moonsetter Binalong Time
Rhododendron, Oregon
Benson is co-owned with Dan & Janet Kopecky. Sadly, he crossed the rainbow bridge in 2010.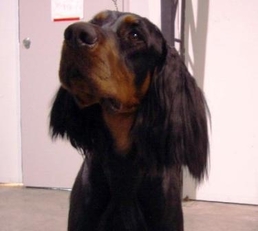 Benson
Benson in the ring
Ch. Moonsetter Ben Hall SureShot
Radcliffe, Iowa
Ben was co-owned with Denise Bachelder, but tragically crossed the Rainbow Bridge on December 20, 2004.
"Teddy" Ben
Ben
Moonsetter Bairnsdale McMillan
Gandalf was loved by the Staley/Cox Family of Irving, Texas, but lost a battle with cancer in August 2010.
Gandalf & Red
Gandalf
Moonsetter Bondi Girl
Bronte lives in Duluth, Minnesota with the Moe Family
Bronte 4 months
Moonsetter Bungaloo Bay
Murphy lives in Muncy, Pennsylvania with the MacDonald Family
Baby Murphy on point
Murphy's spoils
Moonsetter Bellingen Tullibardine
Tully lives in Brookings, South Dakota with the Treseders
Tully
Moonsetter Breath of Heaven
Bryndle lives in Nevis, Minnesota with the Johnsons
Bryndle
Ch. Moonsetter Balwyn Sureshot
Aisling stayed on here at Moonsetter and can be found In Our Hearts