The "R" Litter Kids
BISS GCHP Saranac Toblerone x Ch. Moonsetter Lunar Veritatis
May 11, 2016
Truly and her R babies
Moonsetter Rumor Has It She's the One
Rumor lives in Appleton, Wisconsin with Brad and Katie
Rumor 5 months
Moonsetter Rendezvous
Rigby is co-owned with our good friend Kat in Missouri.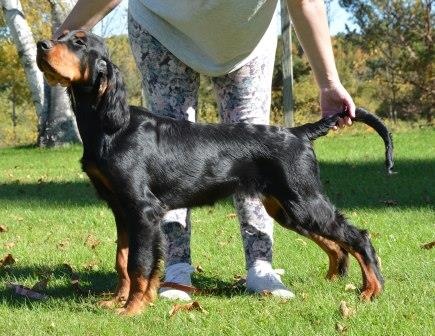 Rigby 5 months
Ch. Moonsetter Really Sirius
Trooper is co-owned with Mary in Minneapolis and can also be found on his own page under "Moons and Stars".
Baby Trooper with Bruce, Mary and Thunder
Moonsetter Road to the Isle
Rosie lives on Bainbridge Island, Washington with Su and Stu, and their English Setter, Jake.
Rosie and her pal Jake
Moonsetter Ready Set Go
Penny lives in Duluth, Minnesota with Jill and Jess.
Penny at home
Moonsetter Reach for the Stars
Hugo lives in Rochester, Minnesota with Matthew and Cynthia's family.
Hugo at home
Moonsetter Romeo Oh Romeo
Logan lives in Green Bay, Wisconsin with Mary and Bruce.
Logan